School of Ministry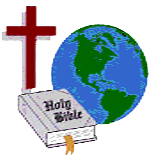 "Go ye into all the world and preach the Gospel to every creature" ( Mark 16:15 )
SWEA School of Ministry continues to receive requests from around the world to help train people for ministry of the Word of God.
We are pleased to announce that we have begun doing this through Bible Correspondence Courses. Our school now has numerous students in Trinidad & Tobago, Africa , India and Pakistan
It is our desire to help train for ministry WORLD WIDE
Church planting projects are training pastors with these courses and some are already in new foreign churches as pastors such as in the Pantene Jungle of Mexico.
Our School Of Ministry will supply individuals or ministries on the foreign fields with basic, simple correspondence courses that are easy to study and understand. There are no educational requirements to qualify.
NO FEES ,TUITION OR FUNDS ARE REQUIRED !
All students must however file an application for enrollment. It is important to us to know how many and who are using these ministry training services. In India, translaters are begining to translate from English to the Indian languages for us.
CURRENT COURSES AVAILABLE
"Study to show yourself approved unto God ( 2 Timothy 2:15 )"
The Book of Romans
The Book of Acts Part One
The Book of Acts Part Two
Several other Bible Courses are being written and will be made available soon. All curriculam is written , prepared and graded where required , by our president and founder Rev. Stephen Wade
It is our goal to allow people that can not attend a Blble School/Theological Seminary for financial reasons, restrictions, educational back ground, travel etc. to study and be trained in the Word of God at home or with a church group.
We believe that anyone with a true calling of God to minister the Word of God should get busy doing that ,and we will help. We believe the Holy Spirit calls and He teaches "The Holy Spirit will teach you all things" ( John 14:26). We are just instruments to help make it possible for you to fulfil your calling.
If you are not interested in the Bible Correspondences Courses but want to help us in the fulfilling of the Great Commission of our Lord Jesus, "Go Ye Therefore and Teach all Nations " ( Matthew 28:19 KJV ) your designated financial gifts will be greatly appreciated and are income tax deductable. We have no other means of supporting this project other than your gifts.
We welcome all inquiries.
Contributions for this great cause may be made to our International office found under contacts.
FOR BIBLE SCHOOL ENROLMENT CLICK HERE