Missions
At SWEA Inc. We Believe Missions to be the Very Heart of God.
Every effort we make for missions continues to be mightly blessed of God and so have those who have helped fund our projects. (SWEA Inc. receives no funding other than from people like you , as you become our partners)
The year 2011 was the greatest year for growth in the ministry in regard to reaching out to others, both at home and on the foreign fields. This was partly due to the fact that many ministers and ministries became part of SWEA Inc. and joined our ministry team. We have been blessed with some great new fellow labourers in the harvest. We are expecting with help that 2012 will be the greatest of our 38 years of ministry.
As the entire world is in chaos and concerned over the future, opportunities are unlimited to proclaim the Good News of the Gospel of Jesus Christ worldwide. This ministry spends it time and resources doing just that.
We currently have pastors and missionaries in several countries. All have made a great sacrifice and are working very hard.
About seven years ago a Prophetic Word was spoken over this ministry that the nations of this world would open it's doors to us. This word was given several times by different people. It has and continues to come to pass.
---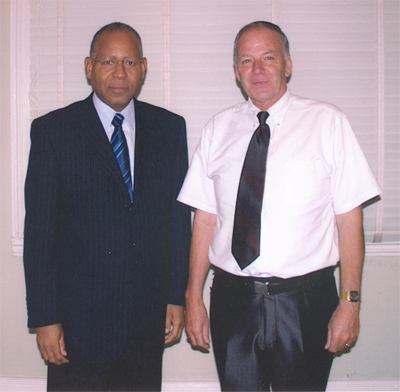 This photo was taken in 2004 at White Hall in Trinidad when Stephen accepted an invitation to meet personally with Prime Minister Manning of Trinidad and Tobago. The purpose of this meeting was to discuss the future of the spiritual well being of the country. Stephen also had prayer with the Prime Minister.
---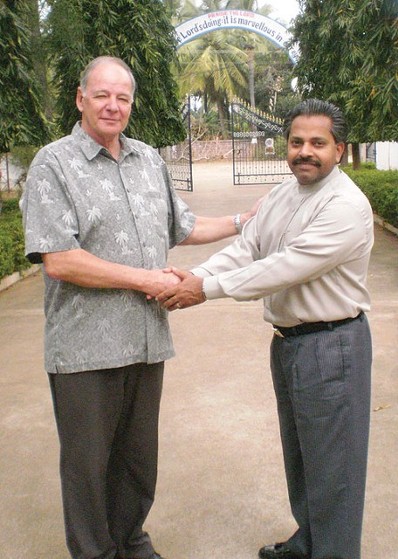 Stephen Wade, President of the Stephen Wade Evangelistic Association, Inc. along with Jameson Titus, President of Christ for India, Inc. joining hands together in partnership! Photo taken inside the campus gates of Christ for India in Southern India.
This ministry is also the Canadian contact for Christ For India, Inc. and is in partnership with them. In 2010 Stephen visited Andhra Pradesh India where he shared God's Word on the campus of Christ for India, in the public school to hundreds of children several times, in churches, to Theological Seminary students and faculty and spoke in several Indian villages. He is currently also Missions Director for Christ for India. Funds for that ministry can be sent to him to be forwarded to India.
---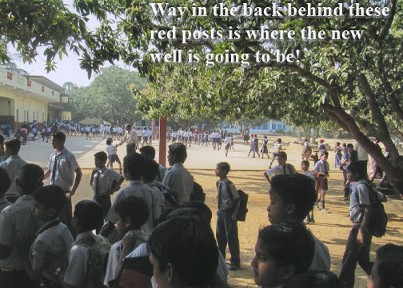 The Stephen Wade Evangelistic Association is currently raising funds to be used to drill a waterwell on the campus public school grounds to supply over 1000 children , many of whom are orphans and live there on campus, with good drinking and bathing water. Fund raising for that project is near complete and we hope to be drilling within a few weeks. Your help in this project will be greatly appreciated. The need for water is urgent.
---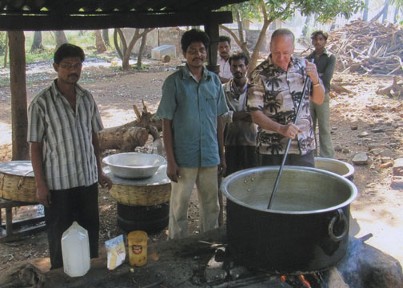 The Pastor stirring the pot - literally this time. 3000 meals per day are served on campus to students, children and faculty.
---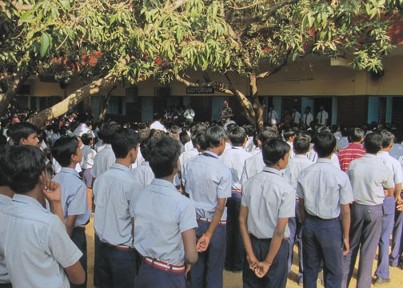 ---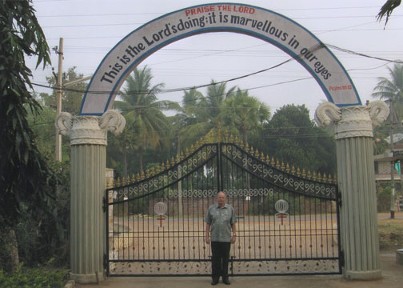 ---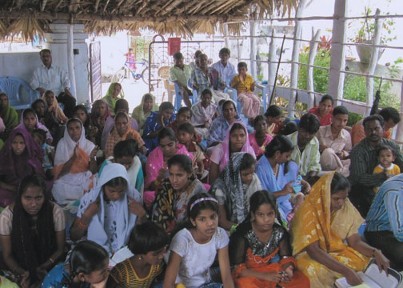 Pastor Stephen ministering in an Indian village church.
---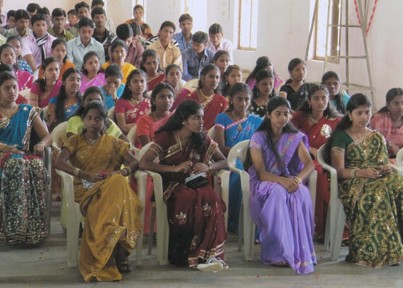 Pastor Stephen ministering to college graduates.
---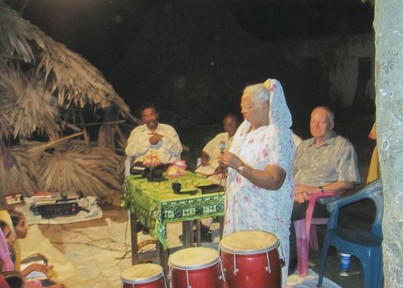 Mary Titus, wife of the late Dr. PJ Titus. They were founders of Christ for India and she is commonly referred to as the 1st Lady of India and seen here introducing Pastor Wade in an outdoor church service in another Indian village.
---
It is considered a high honor to receive gifts as a guest in Indian churches.
---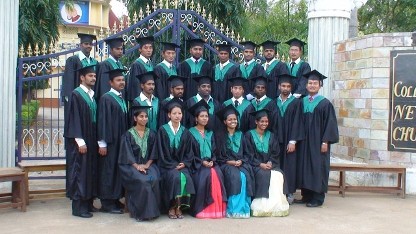 Pastor Stephen had the privilege of ministering to and participating in graduation services for these students from the Theological Seminary in India.
SWEA Inc. sends funds to help support students in their training for ministry.
---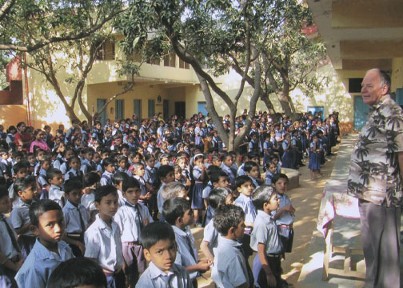 Pastor Stephen was called upon on several occasions to minister the Word of God to several hundred school children at the Nava Jeevan Public School in India. This is also the location where the new well will be dug in 2012.
---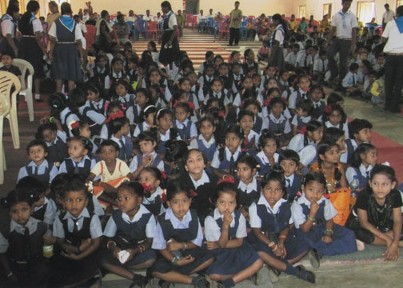 ---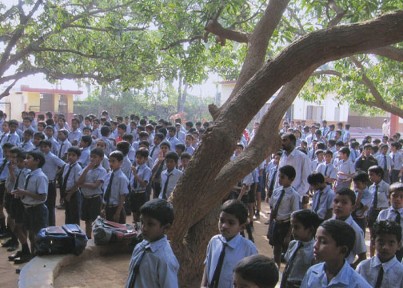 ---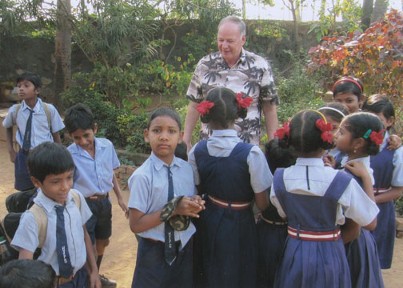 Pastor Stephen chatting with the children prior to a meal that will feed 1000 hungry mouths.
---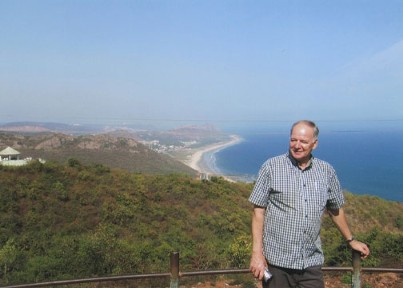 Sightseeing in India - everyone needs a little relaxation! (It was between 45 and 50 degrees celcius on this day!) The Bay of Bengal is in the background.
---
Ministering to the youth at one of the building on campus.
---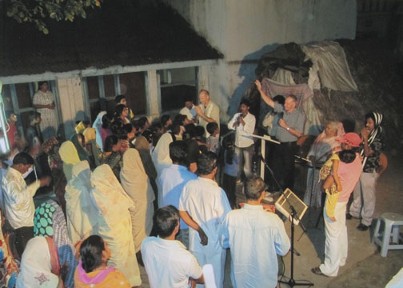 Prayer for Salvation and Healing in another Indian village. Many of our meetings were so well attended that they had to be held out on the streets.
---
Find more info on Christ for India Inc. at www.christforindia.org or CONTACT US.
The MAU Vision Statement : Share the saving grace & knowledge of our Lord Jesus Christ among street children and their families.The MAU Mission Statement : God willing we will be reaching the unreached sector of society the street children and their families for Christ through street education, psycho-social intervention and restore them to become productive members of society.
Goals :
Provide spiritual, emotional and physical nourishment among street children and their families through value formation, counselling and feeding program.
We will establish Alternative Street Education/non-formal education to under privileged street children at Sta. Rosa and in Cubao Philippines.
We will promote advocacy and protect children's rights in all forms of abused.
As the Lord enables we will develop a livelihood program to the families of street children to improve their way of living.
Mission Among the Unreached (MAU) was official on Jan. 19 2011. The Certificate of Incorporation was issued by SECURITIES AND EXCHANGE COMMISSION SEC Building, EDSA, Greenhills City of Mandaaluyong. Metro Manila, Philippines.

There are 3 areas the mission is currently working in. The first is Maligaya, In Las Pinas, The second is Sta Rosa and third Cubao. Presently serving 150 children a week. Plus the families feeding program to date average 675 meals per month.
Additions to this will be worked out as resources and time become available. A local church (CCLP) is involved in the meal program in Las Pinas City.
Any questions can be directed to the SWEA Inc.

DONATIONS CAN BE MADE THROUGH SWEA Inc. (found in Contacts)
SWEA Inc. also helps support an Orphanage in Trinidad.
We have also just started sending funds to Friends of Orphans in Kampala, Uganda to help feed children that are dying due to severe drought. This will be an ongoing project. The need is ~Urgent~.
Has helped funding for International Fellowship of Christian and Jews " Wings of Eagles " project.
Supports World Vision Children in two countries.
Supports LIFE MINISTRIES.
And other great causes for Christ.

We are now supplying Bible Correspondence Courses to train Pastors and Missionaries in India, Africa and other countries.

Look under:
SCHOOL OF MINISTRY
All of this is done through gifts from donors. No administration fees are paid whatsoever and in fact we usually send more that what is received and designated.
It is our goal to reach out farther in this year of 2012 and you can help!