Resources
BIBLE CORRESPONDENCE COURSES
Look under SCHOOL OF MINISTRY

DVD's
Ocassionally we offer Cd's/DVD's of services , revival meetings and events at very low cost.
Currently the cd "God's Plan of Salvation, Plain and Simple" is being made available once again. It is a brief , easy to understand message from Evangelist Stephen Wade. A great tool for Personal Evangelism. Give them as a gift and lead souls to Christ !
LETTER FROM THE PASTOR
By request, this ministry will begin publishing a news letter in Feb 2012.
It will include testamonies, photos, news, messages , etc.
To get on our mailing list just contact us with your mailing information and you will receive your copy free of charge.
NOTE : This Newsletter will be available by postal services only !
COMING SOON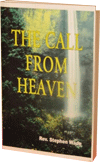 By popular request , finally, Rev. Stephen Wade is writing a book called " The Call From Heaven" It is soon to be published at the Jyothi printing press in Southern India on the campus of "Christ For India"
It is a book that is sure to make you laugh, cry and be blessed as the account of his life as a young boy and the calling to serve God in ministry is very much in detail. This inspirational book filled with miracles will minister to the unsaved, the redeemed, and ministers of the Gospel of the Lord Jesus Christ alike.
It is intended to bring hope and encouragement to all readers and reveal God's plan ( or His continiued plan ) for your life.